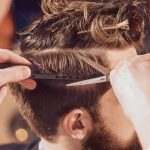 "What are my options?" 
Is the universal question in a city that never sleeps. In a capital that offers the most variety of services, attractions and quality products, world-wide. Who doesn't like a multitude of choices, right? Given the diversity of New York City's people and their various needs, a thoughtfully accommodating business is in need! Especially when it comes to hair and beauty, let me tell you!
Hair Stylists offer one of the most expansive arsenals in terms of color, haircutting, treatments and enhancements.
From trend-setting haircuts such as a precision "bob", to an all-out wild faux hawk, all walks of life can look and feel their best! Regardless of age, profession or style, a talented Hair Artist is equipped to switch up their approach to suit each individual's needs. Need that conservative but striking blonde balayage? How about that rejuvenating keratin treatment to both strengthen and smooth your hair back to perfect health? One may be in need of a complete makeover in order to show off for that high school reunion. Perhaps a transformative color, cut and up-do is in order to have heads turn! We got you covered.
As a Hair Salon Manager and Reservationist for almost twenty years, I fondly remember one particular patron in the past.
He adored going to the salon because he had an itch for switching up the look of his hair quite drastically. Hair Artists, inspired and amped for change, love guests such as him. One time he came in with leopard spots colored throughout his mullet, while the top and back was platinum blonde. The following visit, he decided to go for a David Beckham-esque short buzz cut, colored a celestial silver! Now that's what I call "switching it up"! Here's to many more years of inspiration, transformation and difference making!