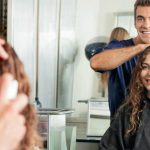 How do you find the right Hair Dresser for you in a city that offers hundreds of Salon options?
What are some of the key traits that one seeks before they decide to sit in your chair? Even more vital, what is it about the Stylist that will keep you coming back? Their look may do it for you. The way they fashionably dress and carry themselves may be enough to convince you that they are the right fit for you. Talent is a big factor, of course. What trends do they specialize in? There is one element however that reigns above all of that- The Consultation.
What is a Hair Consultation and why is it the most important deciding factor in selecting your Hair Stylist?
Consultation should come standard in every beauty salon you attend. It shows that the Operator cares about your hair and about the integrity of their craft. They will ask you the proper questions to pinpoint your hair needs and desires. Listening to your patron is the best way to show them respect, professionalism and skill. After all, how would you achieve the ultimate look if you don't know what your guest is looking for? I once went into a barber shop when I was a younger man. I had long hair at the time and just wanted the dead ends cut off and a better shape for my hair cut. I left with a #2 buzz cut off the menu. The Barber did not listen to me one bit and simply did all that he knew. This was a unisex salon, mind you. They knew how to handle long hair. They chose not to listen and lost a customer for life.
Dramatics NYC highly believes in The Consultation.
So much so that for the past few decades, its Founder and Owner, Rock, established an Educational Class just for mastering The Consultation. It is the reason for their success for so many years, as everyone leaves happy with their hair and knowing that their Stylist truly 'gets them'. All it takes sometimes is to lend an ear to make someone happy. Bravo, Dramatics NYC for listening to your audience and for bringing their hair vision to life!
– Written by Ramon Trif