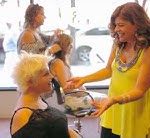 There is no "I" in Team. There is, however, in "Stylist".
It takes many I's, or eyes, to make the perfect dream team of beauticians! What are the traits needed for each star player to make an optimal impact in contributing for the salon and its guests? Team work makes the dream work, after all!
It all starts with a welcoming atmosphere.
For that, a salon abode needs a fresh face at the front desk. Someone who has great energy, style and an ability to relate to a variety of people. A unique blend of kindness, diplomacy and professionalism is what makes a top notch coordinator. They are the heart of the salon, that pumps out energy and knowledge to the others, as well as keep order throughout. If the heart is not functioning, you best bet that nothing else will do as well.
Now we need a glam squad that specializes in color, haircuts, styling and transformative looks.
Each Hair Artist should have a strong signature technique that they're known for. I would build a team consisting of a master colorist, a seasoned haircutter, a renowned bridal specialist and a fast, trendy barber. The vision is to keep each niche of hair down to one artist, so they focus entirely on the quality of the outcome. In addition, no one is competing with one another as every category is their own. The belief is that each operator will feel and produce better, having only complementary members by your side.
We started with the Alpha of a salon coordinator and we end with the Omega of a strong manager needed.
What keeps everything and everyone together is a natural leader figure. One who genuinely cares about their Team, their growth, as well as keeping harmony throughout for all involved. Without these key members, any salon may be liable to not be at its peak performance. Here's to striving for the best in beauty!
– Written by Ramon Trif